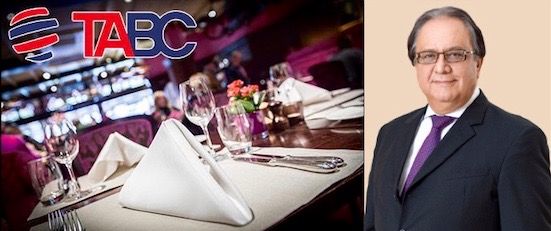 An Exclusive Dinner with
Turan Erdogan, CEO and Chairman of Executive Committee at Vestel
Presented by TABC
Friday January 8, 2016, 7 – 10 pm
We are excited to invite you to our next TABC members only exclusive networking event; an intimate dinner with Turan Erdogan, one of the prominent business leaders of Turkey.
Mr. Turan Erdogan serves as CEO and Chairman of Executive Committee at Vestel Elektronik Sanayi ve Ticaret AS. He graduated from Istanbul Technical University, Department of Mechanical Engineering in 1976 and completed a Master's degree in Production Management at Brunel University (England) in 1980.
Vestel is a Turkish home and professional appliances manufacturing company consisting of 18 companies specializing in electronics, major appliances and information technology. Vestel, together with its subsidiary brands has a significant share in the European market of consumer electronics and home appliances, in particular TV sets. As of 2006, Vestel was the largest TV producer in Europe with more than 8 million units sold, accounting for a quarter of the European market. Vestel also has a subsidiary brand Vestfrost that is popular in the Nordic countries, Finlux and licensed Sharp, Hitachi and Telefunken for their production, sales and marketing. In 2014, Vestel entered into the smartphone market.
All-inclusive tickets for General Admission: $250 per person
TABC Executive Dinner General
All-inclusive tickets for TABC Members: $120 per person
Space is very limited;Â there are only a handful of available seats for this exclusive dinner, we hope to hear back from you right away if you can join us. Please reserve your seat by e-mailing and requesting a ticket at: info@tabc-us.org.
An Exclusive Dinner with
Turan Erdogan, CEO and Chairman of Executive Committee at Vestel
Presented by TABC
Friday January 8, 2016, 7 – 10 pm